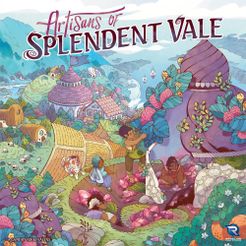 Résumé VO

The Artisans of Splendent Vale is a cooperative adventure game set in a magical and unique land. As a troupe of artisans, you will explore the beauty of the Splendent Vale while honing your individual crafts. Experience a deep narrative campaign where your choices will help shape the story. Overcome challenges during tactical action scenes played out on specialized grid maps. Teamwork and careful strategy will be crucial during these encounters.

Features:

*A cooperative store driven adventure through the Splendent Vale!
*Play as one of four diverse and unique characters each with their own specialized crafting skills.
*Your choices will determine your adventure path through each of the adventures.
*Experience individual interludes to build your story, separately from the group's tale.
*Work together to overcome tactical challenges during action scenes!
The Artisans of Splendent Vale est un jeu d'aventure coopératif qui se déroule dans un pays magique et unique. En tant que troupe d'artisans, vous explorerez la beauté de la Splendent Vale tout en perfectionnant votre artisanat. Découvrez une campagne narrative profonde où vos choix contribueront à façonner l'histoire. Surmontez les défis au cours de scènes d'action tactiques jouées sur des cartes quadrillées spécialisées. Le travail d'équipe et une stratégie minutieuse seront cruciaux lors de ces rencontres.
Caractéristiques :
*Une aventure coopérative en magasin à travers le Splendent Vale !
*Incarnez l'un des quatre personnages uniques et variés, chacun ayant ses propres compétences artisanales.
*Vos choix détermineront votre chemin d'aventure à travers chacune des aventures.
*Vivez des interludes individuels pour construire votre histoire, séparément de celle du groupe.
*Travaillez ensemble pour surmonter les défis tactiques pendant les scènes d'action !
Traduit avec DeepL

Pledges : ?
Frais de port : ?
Autres liens : Fiche BGG