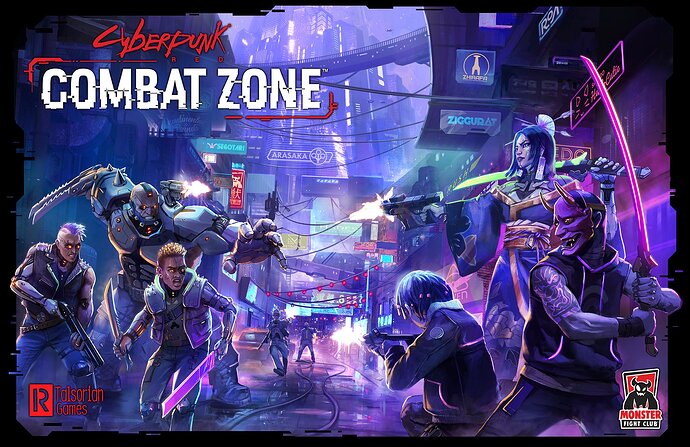 Après le RPG Cyberpunk Red par R.Talsorian Games et avant le boardgame Cyberpunk 2077 par CMON, Monster Fight Club va proposer sur KS le jeu d'escarmouche Cyberpunk Red: Combat Zone. MFC n'est pas un inconnu dans l'univers de Cyberpunk puisque ce sont eux qui se sont occupés des figurines officielles pour le RPG Cyberpunk Red.
Pour ce qui est du gameplay, Monster Fight Club le décrit comme étant rapide et dynamique, sans rounds ou tours fixes. Les personnages seront capables d'effectuer des actions librement et de réagir aux mouvements de leurs adversaires. Au fur et à mesure qu'ils subiront des dégâts et des blessures, les capacités des personnages seront progressivement affectées, ce qui donnera un style de jeu conflictuel dès le départ.
Descriptif éditeur (en anglais)

In the time of the Red, every city has a combat zone: an area of the city where the law doesn't reach
and cyber-enhanced gangs vie for control over the streets.

Cyberpunk Red: Combat Zone is an new skirmish miniatures game from Monster Fight Club,
set in the Combat Zones of 2045's cities.

Lead a team of Cyberpunk characters looking to make a name for themselves!

Combat Zone features a new, fast-paced game engine that where the players can act and react in organic, free-flowing actions. No rounds, no phases - the game just goes. As your characters take hits and get wounded, their abilities degrade - so strike hard and strike fast!

​Combat Zone leaves the traditional rulers and tape measure behind and introduces a new "Limiter" based movement and range system, where your characters' attacks and movement depend on the quality of their actions. Green, Yellow, and Red Actions all have different chances to succeed - so choose smartly!

Featuring the detailed Monster Fight Club miniatures and scenery, Combat Zone will be coming in 2021.
Pledges : jeu (incluant deux factions) pour $120 (100€). Quatre factions additionnelles à $50 chaque ou via le pledge incluant les 6 factions à $270 (225€).
Frais de port : en sus, estimés entre $35-40 et $45-50 selon le pledge.
TVA : en sus, facturée lors du Pledge Manager.
https://www.kickstarter.com/projects/monsterfightclub/cyberpunk-red-combat-zone
Autres liens : site éditeur