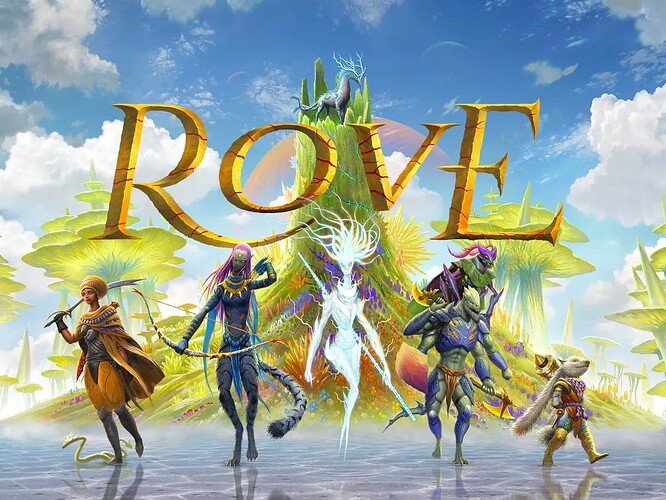 Les nouveaux venus Addax Games, qui avaient fait la fan expansion The Crimson Scales, arrivent bientôt avec Rove, leur premier jeu à l'univers très Gloomhaven-esque. Le jeu a été présenté à la dernière Origins Game fair et le crowdfunding est prévu pour cette année. Mais qu'est-ce que Rove…
L'annonce (en anglais)

ROVE is an immersive « big box » high fantasy board game for 1-4 players. Set in a wild and vibrant universe illustrated by Alexandr Elichev, players will adventure through the campaign as they unlock new skills, equipment, and classes as they fight their way for survival throughout the magically-empowered wilderness in strategic turn-based gameplay inspired by classic strategy-RPG video games from the 90s.

The game is played using a set of books that make setting up and tearing down the necessary game pieces quick and contained to a smaller space needed on a table. Each player has a hand of skill cards that will change during gameplay, requiring everyone to plan our their turns carefully to execute the strongest combinations. Adversaries execute their turns using a behavior table that will add extra wrinkles to the strategic process.

Each encounter provides a unique challenge that tests your ability to cooperate with your fellow Rovers to defeat wild creatures or malignant foes, rescue tribal villages from untimely destruction, and establish safe havens in the untamed frontiers.

The campaign has numerous narrative choices that will affect where your adventure takes you and the state of the world. The alliances you form and tribes you visit will have a significant impact on how a campaign will unfold.
Pledges : ?
Frais de port : ?
TVA : ?
La page KS : https://www.kickstarter.com/projects/addaxgames/rove
Autres liens : Addax Games - BGG