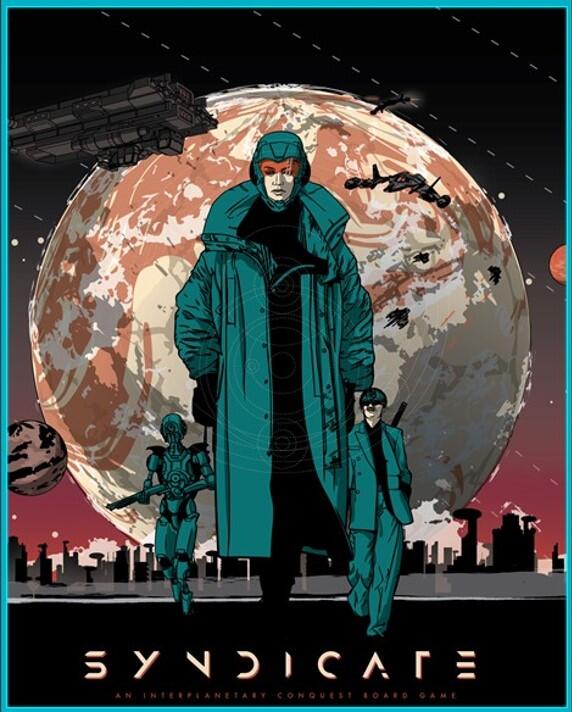 Périphérie d'Arcturus. A la tête d'un jeune syndicat criminel, vous devez rester sous le radar du Souverain tout en construisant le plus formidable empire criminel du système.
Présentation éditeur

SYNDICATE by PDU Games is an interplanetary conquest board game for 2 to 5 players.

It is the year 3105, and humanity has spread to the stars. Following the invention of interstellar travel technology in the 22nd century, greed and human desperation have fueled a wave of corporate-led colonization of remote solar systems.

In one of these, Arcturus, an authoritarian regime known as "the Sovereign" has long reigned over the solar system's planets, moons and space stations with an iron fist. But following nearly a decade of political infighting and civil war, the Sovereign's grip of Arcturus is starting to slip, opening the door for criminal organizations to proliferate.

You control a young, enterprising criminal syndicate on the outer fringe of Arcturus, trying to stay under the radar of the Sovereign while competing with other criminal syndicates for money, power, loyal crewmembers and advanced technology. Complete missions, set up criminal operations, and take down anyone that stands in your path to building the most formidable interplanetary criminal empire in the system.

Pledges : Jeu à $55 (47€)
Frais de port : en sus, estimés à $15 (CH: $30)
https://www.kickstarter.com/projects/syndicateboardgame/syndicate-an-interplanetary-conquest-board-game-redux?ref=cwowd
Autres liens : Site éditeur - KS 1ère tentative - vidéos tuto - règles du jeu - live play (vidéo)