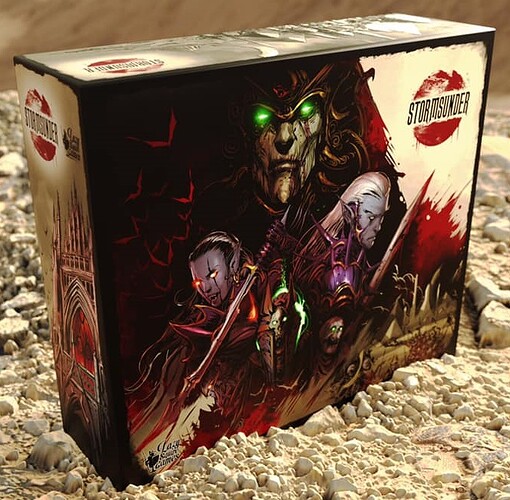 Prochain jeu de plateau par Lazy Squire Games (Wild Assent [NDLR : toujours pas livré et mis en stand-by le temps de finaliser ce nouveau projet…]) avec figurines 32MM, et jouable de 1 à 4 joueurs en mode solo / co-op.
Stormsunder is a 1-4 player miniatures board game featuring immersive, story-based gameplay that puts players in command of how the game's branching plot unfolds. Players will be forced to make impactful decisions, ultimately determining which of Stormsunder's multiple endings they experience. Stormsunder: Heirs of Ruin also features exciting combat and progression systems, allowing players to customize their characters before they send them into battle.

In the upcoming months we will be sharing the amazing art of Stormsunder: Heirs of Ruin. We want you to help us shape the world of Stormsunder and its inhabitants.

Ho-Tem Ra, ancient pharaoh of the great city of Mokatta, was once ruler of all the Inalii desert and beyond. Selfish and cruel, he used his power to amass great libraries of archaic scrolls and forbidden texts, pouring over their pages while he experimented on the living and the dead. Fearing the monster their pharaoh had become, Ho-Tem Ra's vizier and other advisers murdered him in his sleep, burying him deep beneath the city in a tomb sealed by powerful runes and obscure magics. The Storm shattered those barriers and Ho-Tem Ra is now free, determined to reclaim his lost kingdom with an army of the dead at his command.
Pledges : Jeu à $149 (137€). Avec une extension à $299 (275€) ou deux extensions à $449 (413€)
Frais de port : en sus, estimés à $29-39 pour le seul jeu de base, entre $29 et $49 de plus pour recevoir 1/2 extensions en seconde vague (l'envoi en une seule vague ne fait pas économiser grand chose, option très déconseillée)
https://www.kickstarter.com/projects/1449412950/stormsunder-heirs-of-ruin?ref=cwowd
Autres liens : Lazy Squire Games, l'article de présentation