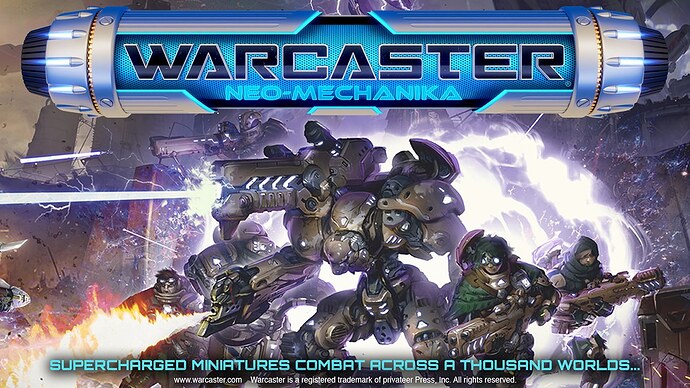 Privateer Press (Warmachine/Hordes, Monsterpocalypse, Level 7) revient sur KS avec ce Warcaster: Neo Mechanika qui est tout simplement l'univers de Warmachine, 5000 ans dans le futur. Ou quand Warmachine rencontre Infinity et W40K pour de l'escarmouche de masse (20-30 figs).
Description éditeur (anglais)

Thousands of years ago, Humanity was confined to a single world.
Unstoppable horror showed up, and many fled through a gateway and spread through the stars.
Arrived on inhabitable worlds, permeated by an energy called Arcanessence. Grew in big crystals, dissolved into geysers of energy which could be tapped into and used. Became foundation of Neo-Mechanika, « Science Magic ».
Can power up weapons of war, create ships that can fly but are not interstellar. Found gateways between worlds.
Walk through gateway and just appear on another world, they began mapping them out.
Gateways aren't reliable, some appear and disappear in cycles.
Create mini void gates that are deployable, soldiers stay on the ship and teleport down to the battlefield.
Arcanessence starts to get drained more and more. Empires begin going to war over it. Soldiers above other kinds of Soldiers rose called Warcaster. Able to manipulate Arcanessence, or « Arc », to transport in soldiers or power up weapons and armor of soldiers or warjacks. Basically magic.
The player is the Warcaster, it is not a model on the table. You are inside a giant ship watching over the battlefield.
You have Arcanessence that you use to portal troops onto the battlefield. Flows like a circuit board between Ship, Gates, and Army.

Iron Star Alliance vs. Marcher Worlds
Starter box factions.

Iron Star is giant corporate empire, secure, draconian in treating people. Joining them is giving yourself up to oppression and brutal policies, but great security.

Marcher Worlds have fled to fringes of known galaxy, don't want to be in alliance, want to exist on their own, free. Scavengers, fringe world people.

Warcaster's command console is called the Rack. You are invulnerable, safe in a battleship above the battlefield.
Jacks are customizable, have hard points you can customize with different weapons. In starter there are more options than those specific configurations. Arm/Arm/Shoulder hardpoints on these lights, but not necessarily always there.

Left side is Firebrand, Reflex Cortex, Shield, Harbinger Cannon
Right is Duskwolf, Railgun shoulder, Battle Rifle right hand, Ripper left hand.
Cortex is represented by different heads. Choices are point value based.

Unit, Solo, Squad. Hunter is a solo, is a sniper with very long range. Arc can power his gun to make it shoot further and harder.

Weaver can channel ciphers onto the battlefield. Basically an arc node for your Warcaster powers.

Squads are generally about 3 models. Very little melee, most things focused on guns.

Iron Star lean on Paladin Enforcers.
Alternating activation game, every turn can manipulate circuit board, summon models, etc.

Paladin Enforcers, when charged with arc they can do both melee and ranged attacks, super speeds and powers them up

Models are resin and metal

Terrain is more involved, catwalks, etc. Terrain rules are very simple so you can kind of use anything. Less terrain rules than Warmachine by far. Build the world you want to build, work out what everything counts as.

At Adepticon, will be an exclusive sculpt alternate Marcher Weaver.

Warcaster is being Kickstarted, no specifics on a date yet. More information about game and about kickstarter and additional factions soon.

Pledges : ?
Frais de port : ?
Bilan : le KS Collision Course a réuni 2330 contributeurs qui ont engagé $459.633.
https://www.kickstarter.com/projects/privateerpress/warcaster-neo-mechanika?ref=cwowd
Autres liens : Site Privateer Press