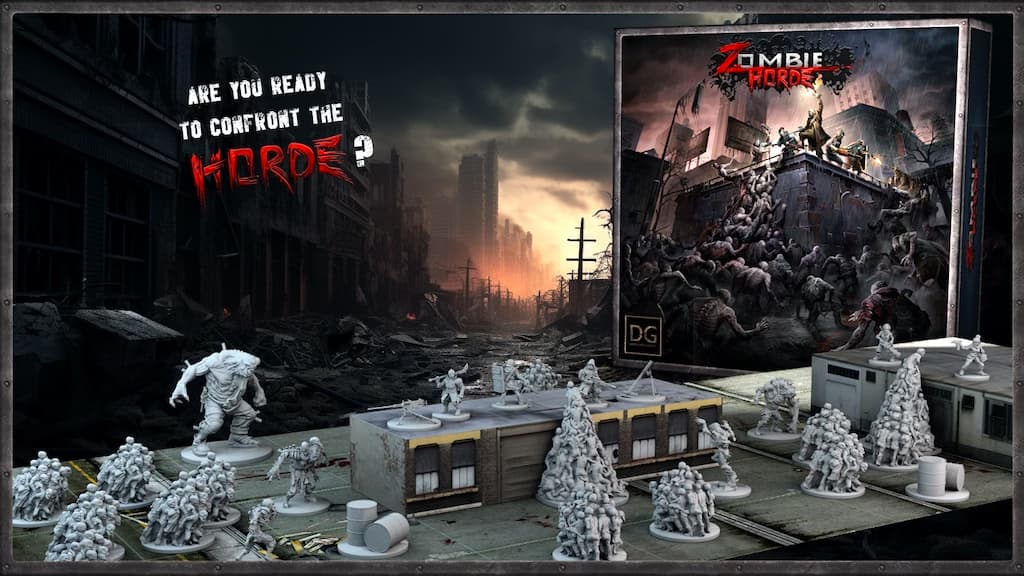 DG Games (Vampire Hunters, Dark Rituals, Neo Morphosis, Ancient Blood) est de retour avec un nouveau projet et donc nouvelle campagne participative. Après les vampires, voici maintenant au programme les zombies…
Prepare for the Ultimate Zombie Survival Experience - Zombie Horde Board Game!

Resource Management, Tactical Exploration, Tower Defense, Boss Rush, Skirmish, and Dungeon Crawler - All in One Game!

In a world plagued by the undead, only strength in numbers can secure your survival. Zombie Horde is not just your ordinary board game; it's an immersive combination of diverse genres designed to keep you on the edge of your seat!

Resource Management: Help your colony grow, strategically allocate resources, and ensure your group's survival.

Tactical Exploration: Scavenge for vital supplies, uncover hidden locations, face challenging decisions, and uncover the mysteries that lie ahead.

Tower Defense: Reload your mortars and heavy machine guns, lay traps, and fortify your position against relentless waves of zombies.

Boss Rush: Face off against menacing huge mutated zombie monsters, each with unique abilities and challenges.

Dungeon Crawler: Delve into dark buildings, where the undead lurk around every corner.

Skirmish: Engage in intense tactical battles, where every move has consequences.

: 1-? joueurs


: ? min


: mécanique principale

Coût estimé : ?
La page KS : https://www.kickstarter.com/projects/1900818244/zombie-horde?fbclid=IwAR24E3rkxULO5DAmxJbZUWsl2wwuHihdi-iW4qVVE07wlmk0nHbilAlgJJ8
Autres liens :