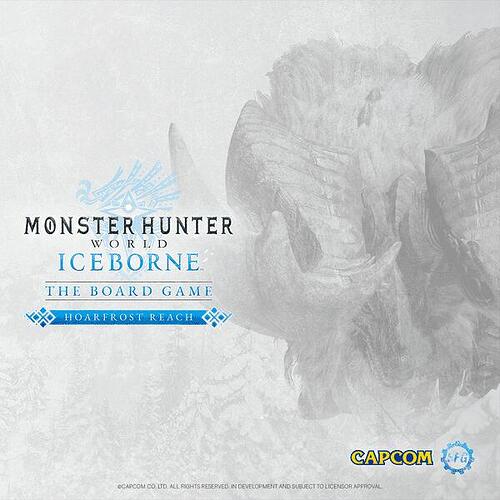 Nouveau KS alors que le 1er est sur le point d'être livré aux backers…
L'annonce, dans l'Update #55 - Stay Frosty, Hunters

Hi Hunters! Jamie Perkins here with yet another update.

In the last week, I've brought you news that the second (and final!) wave of shipping has begun, and that we'll be sending a free errata pack to everyone.

How can I possibly top that? Well, what about an answer to one of the most commonly asked questions I've been getting?:

'Are you going to do more Monster Hunter World: The Board Game'…

…to which the answer is yes! Monster Hunter World Iceborne: The Board Game is coming to your tabletops!

We've been working on this in the background for a while and I'm beyond excited to finally be able to tell you all.

To kick things off, Monster Hunter World Iceborne: The Board Game is a standalone game that's a successor rather than a sequel. Monster Hunter World: The Board Game is already an awesome game (as many of your reviews agree), and now we're excited to do equal justice to the Iceborne monster hunting experience.

Like MHW:TBG, Iceborne is a co-op arena combat campaign game for 1-4 players that will plunge you into adrenaline-pumping hunts in a world ruled by massive monsters.

But this time, instead of lush forests and arid wastelands, you'll explore a frozen tundra. Alongside the giant weapons you've crafted, you'll also be equipped with the infamous Iceborne Clutch Claw, letting you get close and personal with the formidable beasts.

And you better stay alert, because you might find your monster battles interrupted by unexpected — and lethal — invaders in turf wars!

Oh, and of course, there will be new monsters.



The first of many monster reveals: Rajang!


You know the drill, hunters:

The more monsters you slay, the better the weapons you can craft, the bigger the monsters you can hunt!

The campaign launches on May 18, 2023. I know a lot of you are still waiting to receive your pledges from this campaign, but fulfilment should be complete well before then. I've already seen some wave 2 EU backers receiving their pledges, and the UK & US hubs are due to start shipping today.
La page KS : https://www.kickstarter.com/projects/steamforged/monster-hunter-world-iceborne-board-game?ref=cwowd
Autres liens : On discute du financement du 1er opus