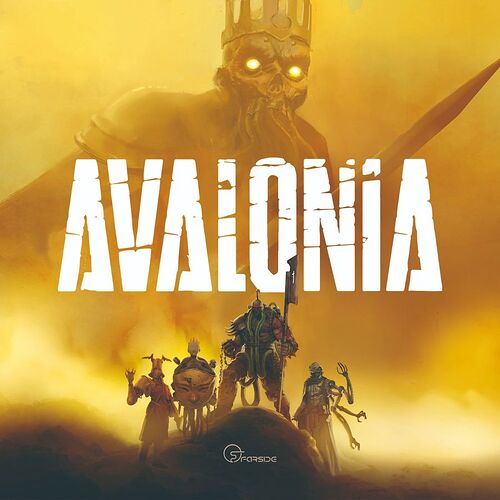 Farside Games (Epic Seven Arise) nous revient avec un nouveau boardgame, Avalonia, qui comme son nom l'indique nous plonge dans un univers tournant autour du Roi Arthur et de ses chevaliers de la table ronde mais qui aurait totalement déraillé à un moment donné pour nous immergé dans un monde post-apo médieval futuriste complètement halluciné et horrifique ! Tout un programme…
Description éditeur (en anglais)

Theme — Avalonia is a wargame genre strategy board game. The story of Avalonia transpires in the lands of Avalon after King Arthur was betrayed and defeated by the four tribes, being left sedated on the Excalibur Tower. A plague was unleashed through the Excalibur, twisted most of the Pure Bloods into Variants, and made them permanently infertile. The four tribes — the Reapers, the Raiders, the Saviours and the Seekers, all thirst for power, endeavoured in hunting down Pure Bloods, using them as breeding machines to sustain the strength of the tribes. Now, a dreadful tribal war is embarked, never ending until someone crushes down the others and takes over the throne in Avalon.

Gameplay — Each player will lead a faction, aiming to expand their army, gain resources and conquer lands on the Avalon Map in order to be strong enough to defeat other factions. There are four phases for each round, the Planning Phase, Action Phase, King Arthur Phase and the Clean Up Phase. During the Action Phase, players have to decide their own combinations of actions to be taken from the 6 types of actions available. Over the course of the game, players have to win Artifact Units before the others, gain Pure Blood resources and eliminate troops from other factions. There are two ways of ending the game, either when the Throne Area of King Arthur is full or when one of the players has reached the ultimate score.

Objective — Players gain Victory Points through harvesting Pure Bloods. In whichever ways that the game ends, the players count their victory points, whoever gets the highest victory points wins the game and becomes the new ruler of Avalon.

Pledges : jeu à 432 HK$ (52 €) ou en Deluxe pour 863 HK$ (104 €). All-in à 1375 HK$ (165 €)
Frais de port : en sus, estimés de $12-14 à $24-28 selon le pledge. CA : $25-40. CH : $34-42.
TVA : en sus, facturée lors du Pledge Manager. Soit la Deluxe pour environ 149 € (tout compris)
https://www.kickstarter.com/projects/farsidegames/avalonia
Autres liens : fiche BGG