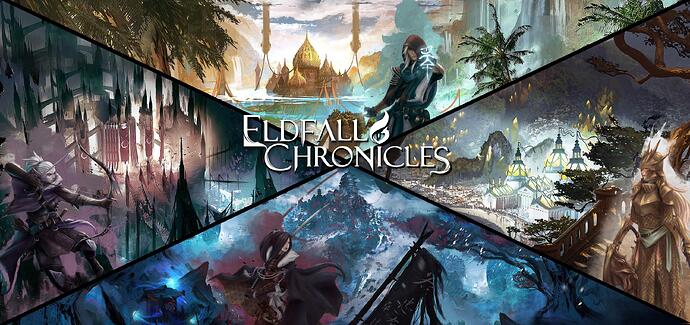 Jeu de base disponible en boutique→ Voir l'offre Philibert ←
Créé par 3 étudiants de 25 ans, Eldfall Chronicles est un projet slovène de type escarmouche (3-7 unités), avec des figurines résines 28mm. Pour du 1-vs-1, 2-vs-2 et même du solo. Il faudra choisir entre 4 factions qui évolueront dans un univers de fantasy japonisante.
Northern Wind, financé en juin 2023, ajoute une dimension Dungeon crawler. Jouable en standalone ou en extension.
Article de Beasts of War / OnTheTabletop pour en savoir plus

The game will launch with four factions at the heart of it and gameplay options which include going head-to-head with another player, teaming up for two-versus-two games or perhaps even diving in to play solo against an inbuilt AI for the game.

Games play in around forty-five to sixty minutes meaning they seem well-suited to a couple of skirmishes in the afternoon. During your games you'll be taking control of 28mm scale miniatures like those you see here in small combat groups of between three and seven units each. As well as focusing in on that kind of skirmishing gameplay you'll also have the chance to play against some of the terrible beasts from this world as we hinted at above which can be controlled by a player or the game.

Because the team behind the game are students of history, they have tried to work that passion into the factions and the miniatures that make them up. Influences from East-Asian culture are woven into Eldfall Chronicles and as they are also practitioners of medieval martial arts they have tried to carry that over into a realistic portrayal of combat despite this being a Fantasy world.

If the campaign is successful on Kickstarter then they want to take the time to expand the game by adding in new units, factions, lore on a monthly basis. What the team really want to achieve first off is an activate community that can work their way into the living world that they want to grow around Eldfall Chronicles.

Pledges : jeu à 119€ (109€ en Early Bird 72h). A partir de 30€ pour une faction seule.
Frais de port : en sus, estimés à 20-25€. CA: 23-28€
La page KS pour Northern Wind : https://www.kickstarter.com/projects/freecompany/eldfall-chronicles-northern-wind?ref=cwowd
Autres liens : Eldfall Chronicles - KS jeu de base