De bonnes nouvelles sur la dernière new

Faudrait déjà que le pm prenne forme non ? Moi j'avais demandé le remboursement… Comme beaucoup d'ailleurs je me demande si il leur reste des thunes…
apparement ils sont en train de bosser sur le PM, ils devrait arriver dans les mois a suivre.
Maintenant une ouverture de PM n'est en rien un gage de qualité, ils peuvent très bien l'ouvrir pour engranger plus de sous.
Un choix

Ouai mais ça fait combien de mois qu'on a lâché les sous ?
J'ai les règles, ça a l'air top, mais je n'ai pas encore eu l'occasion de peindre des figs pour n'y d'y jouer (ce qui serait en théorie possible avec mes figs d'infinity)
Septembre 2019… Chhhhhhut (doigt sur la bouche)
Lol…quand même 3 ans pour un pm…retires tes billes
Un coup de poker, faut rappeler que la situation économique est assez compliqué et que nous sommes sur un jeux de conception complexe avec une équipe de newbee.
Pour ma part, j'ai investie tous en sachant que je pouvais la perdre, je n'y ai donc pas mis toutes mes économies ;D
Pas mieux que vitamine ! C'est pas pire qu'un kdm. On est dans ce pourquoi ks existe avec ce projet pour moi

Hello,
Deux petites vidéos du discord montrant le fonctionnement des aimants: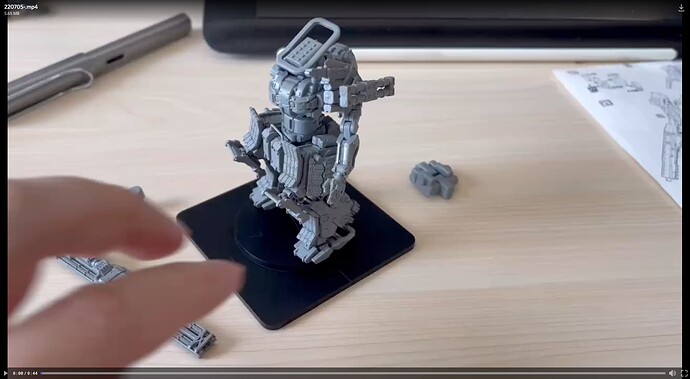 https://www.veed.io/view/fa766ddd-33d0-4e34-978f-cc9ba9ffd05a?sharingWidget=true
https://www.veed.io/view/7cb424b9-2390-4c8b-a1ce-5638bcf4c5d0?sharingWidget=true
---
Un résumé de Kevin du discord posté dans les commentaires KS
Most recent post from the Discord server:

Hi everyone, another week without watching Discord, but this time we have some solid news:

All week, my testers and I have been intensively tweaking and testing the 0.99 rules. As of today, this round of testing and iteration has brought us a lot of useful data, and the rules and values of this version are also the versions that satisfy me the most.

The reason why the test is so urgent now (even delaying the PM's preparation for this) is that we have to quickly make the final version of the card file. Although the changes in 098 are very good, it does bring a lot of workloads.

The current thinking is that in the first week of August, we will complete the entire paper design for the first batch of products (yes, they are already finishing), and then enter the paper production process.

At the end of next week, we are also preparing to run a « more complete » round of testing (V0.99f) with samples closest to the final product.

In this round of testing, we want to finally check if the user experience of all UI is good enough.

Therefore, in the future, the balance value of the game may be fine-tuned, but the rules have been 99% determined, which also means that we will, officially, start to quickly promote the translation of the rules.

While it's impossible to describe in a sentence or two what the rules of this version look like, to put it simply, this version takes the new « timing » mechanism of version 098 (mentioned in the last update) and improves it.

Therefore, the performance of the same mech under the operation of different pilots is also very different.

Different equipment has very different tactical uses.

Also, now you can throw away your bulky shields/large weapons/depleted equipment on the battlefield, and this action has a certain tactical type.

Anyway, it's really fun.

This week's testing is over, and next week I'll be fully pushing the PM and writing an update.

Samples of the dice, test parts for the chessboard chassis, the final design of the paper, the progress of the rule book, and the different abilities of each driver in the first batch, I'll talk about it in this update.

Oh yes, we will receive new test parts from the factory in the next 1-2 weeks. If the test part is perfect this time, the mould is just in time for progress.

All in all, next week's top priority: PM+Paper Design.